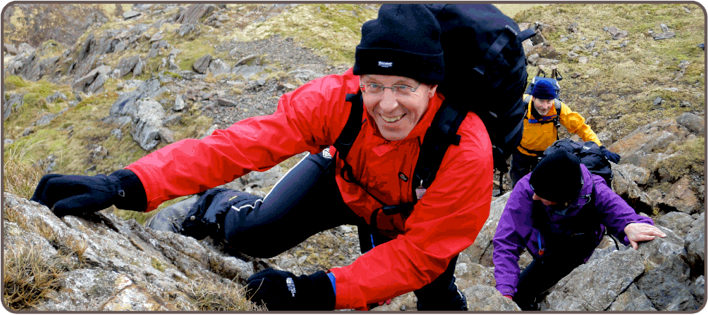 The Highdown Mountaineering Club was formed in October 1986 at the Ferring Scout HQ, and its first programme for 1987 offered 11 trips away to wild country areas in England, Wales and Ireland. The inaugural chairman was David Hyett, then Group Scout Leader in Ferring, who held the post until November 1993; he led many of the Club's trips at home and abroad, often with his late wife Doreen who was also a Guide Leader in the area. In those early years the transport most often used was an old minibus known as the Ferring Ambulance! 1994 saw a number of changes in the Club's management committee, with Richard Carlisle taking over as Chairman for the next 5 years. The club name was changed to its current form in 1997 to encourage new 'hillwalker' members who might otherwise have envisaged just rock and ice on a rope! Some things have not changed over the years, such as the good-natured companionship amongst our Members, the variety of destinations, and the challenges experienced on our trips and expeditions.
Every year since 1987 there has been a Club trip (or a walk) at least once per month, always including a foreign trip during the late summer months to the mountain ranges of Europe, from Poland to the Pyrenees, and we've also been to the Atlas Mountains in North Africa. There are few mountain routes in the UK that have not been trod by Highdown members over the years, including scores of Scouts and Guides getting their first real taste of 'wild country' activities.
As chairman from 1998 to 2006, Graham Aldred introduced some further developments, such as the Club logo, and the formal membership scheme. Chairman Chris Haulkham continued the development theme with the upgrading of our website to attract a wider audience of potential members.  Under the Chairmanship of Gary Edwards our Programmes developed a slightly different 'mix' of events but still with the theme of 'something for everybody'!
In 2011 we adopted changes to our constitution to reflect the shift away from Scouts and Guides and a new Committee structure, and in 2012 Alison Edwards was elected as our current Chairman.  Our re-designed website continues to attract new members to maintain a healthy membership.
Over recent years the cost of fuel has risen considerably bringing about our other main change to the programme, which has fewer trips further afield and more local walking – including summer evening walks. These offer an opportunity for non-members to come along and meet us before they decide to join the club.