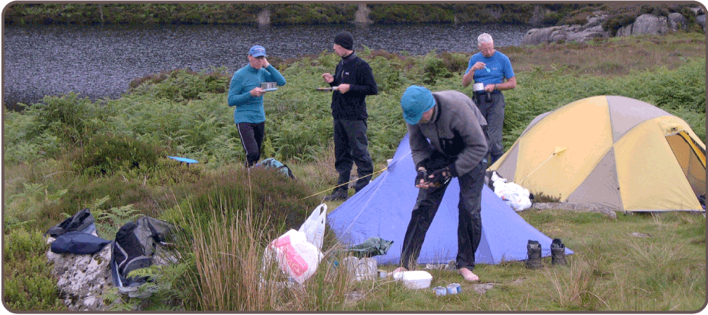 The trips are open to adults (18 and over) who are capable of the activity described in the programme or on the website.

Transport and Costs
Transport will be co-ordinated by the trip organiser using private cars, unless otherwise stated in the programme details. Our trips take us all over the country and we are keen that our club keeps its environmental impact to a minimum. We encourage car sharing and promote the country code. We only leave footprints and only take photos and great memories. The costs shown are approximate and generally include transport and accommodation/campsite fees. Some trips are fully self-catering, some may include breakfasts only, others will also include an evening meal. A very few also include your sandwiches. Read the trip notes carefully and you won't go wrong!

Further Details
Accommodation can vary from trip to trip. Some trips involve Youth Hostels. You do not need to take any bedding on these trips. Bunkhouses vary, some have mattresses and pillows, some don't. Whatever the case, you will need a sleeping bag and pillow case, possibly a pillow as well. Camping trips require a tent and stove as well as all your bedding etc. The joining instructions will tell you what to bring.

If you are interested in a trip, early booking is recommended as places are often limited. Having booked a place and paid your (non-refundable) deposit, preferably by cheque or bank transfer, to the trip organiser, you should receive joining instructions containing final details of all the arrangements about 10 - 15 days before the trip. If you still have any queries about the trip, don't hesitate to contact the trip organiser who will be only too pleased to answer them for you.

Organiser Guide
We have guidance notes available for trip organisers; have a look in our Resources section.